KRZYSZTOF.ART.PL wystawa rzeźb Bronisława Krzysztofa
current exhibition
KRZYSZTOF.ART.PL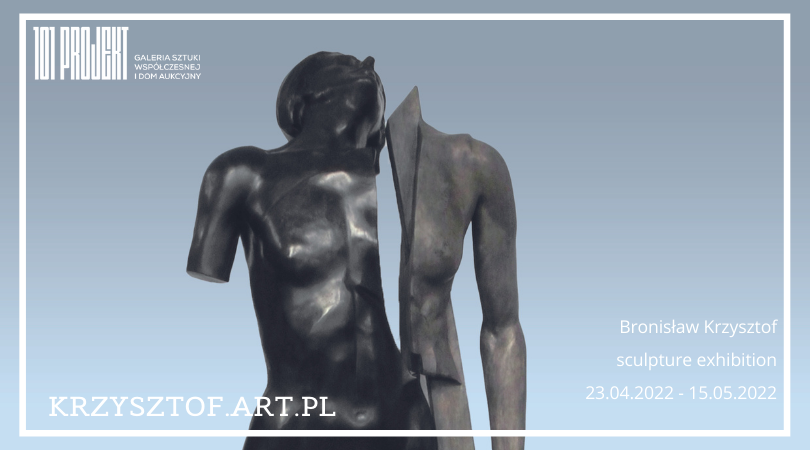 Artist: Bronisław Krzysztof

Place: Fabryka Norblina
Date: 23.04-15.05.2022
Curator: Paulina Świerczyńska-Brzezińska
The latest exhibition by Bronisław Krzysztof presents bronze sculptures made in recent years. The artist remains faithful to this technique from the beginning of his work. The choice of material is not accidental. Bronze, which allows for soft and freely modeled, varied surfaces, gives the Artist great opportunities for creative expression. The presented sculptures are both large forms, over two meters high, and smaller, more intimate browns. The subject itself - a single figure, or more precisely a nude act - automatically brings to mind antiquity. Ancient art is, as it were, the starting point for the Artist. The form is cleared of all unnecessary elements. Human figures ending in torsos, devoid of hands and heads, focus the viewer's eyes only on an important artistic problem. The movement of the characters is shown not through the use of dynamic poses, but mainly through subtle suggestion. A certain synthesis of shapes, blurring of individual features, generalization, is aimed at emphasizing the main topic of the human figure - female, male or sometimes of undefined gender. A certain reduction of shapes sometimes leads to the creation of forms on the border of abstraction. The artist not only develops his sculptures in a way that allows them to be viewed from all sides, but goes a step further - the ideal forms of the human body are divided into fragments that are detached by adding surreal elements. The space itself is another extremely interesting aspect of the artist's work. The human figure opens, showing also the perfectly designed interior - each side, each external and internal element have the same artistic value. The work of Bronisław Krzysztof is a constant development and introduction of innovative solutions, the starting point of which is the human body - a topic that has fascinated artists for centuries.
Paulina Świerczyńska-Brzezińska
BRONISŁAW KRZYSZTOF
He was born in 1956 in Mszana Dolna. He graduated from the State Secondary School of Fine Arts. Antoni Kenar in Zakopane, and then began studies at the Sculpture Department of the Academy of Fine Arts in Warsaw. In 1981 he graduated with honors from the studio of Jerzy Jarnuszkiewicz. The artist has shown his works at many individual and collective exhibitions in Poland and abroad (including in Paris, Cologne, Vienna, Ghent and London.