Short dream | Jacube Rybińska's performative exhibition
current exhibition
SHORT DREAM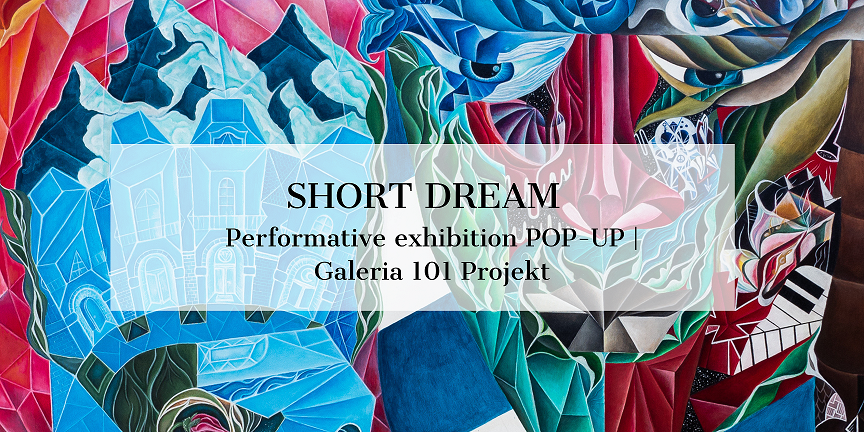 Artist: Jacube Rybińska

Place: 101 Projekt
Date: 03.06-05.06.2022
Curator: Paulina Świerczyńska-Brzezińska
Jacube Rybińska's exhibition "Short Dream" is a three-day performance event aimed to introduce viewers to the essence of the artist's work. The exhibition consists of three elements: exhibition of paintings, performance and a live concert. The vernissage will start with the performance "Short Dream", it will be the first day of the event. The next day, we invite the recipients for a further dream journey, which they will delve into with the help of pictures and music created for them. The concert with live music will be the climax of the entire creative event.
Artist Performence statement:
The performance aims to mark the situation which is the genesis of the pictures. This event is crucial in my story. Its traumatic nature, extreme emotions and the breakdown that I experienced changed me and my way of perceiving and being. Strong connection with the object of loss, inexplicability of the phenomena accompanying "falling asleep" marked me and made me look for clues and answers. I experience rebirth and change through chaos, the profusion of elements and crossing the pain line.
Jacube Rybińska
Performance Short dream: Falling asleep Another movement, gesture, thought ... Naturally precise and with no margin for error. Repetitive, confident in its routine. Quiet, unprecedented storm ... Recall the memory of your last 7 days, how much they were similar to each other, what activities do you do mechanically, do you focus on them and are any of these activities capable of disturbing your whole reality irreversibly? A long, blissful silence, anxiety appeared, probably again unjustified, after all, you are not doing it for the first time. You will look for peace that will probably never come again. He layed just the way that I had put him down to sleep, only absent anymore, breathless and dissimilar. Then there is only pace, apnea, scream, resuscitation, journey, panic ... I am in the nothingness of suspension. Somewhere between chaos and utopia. I don't believe in anything anymore, I can't hear or see anything. He fell asleep. I fell into colorful dreams.
Aleksandra Grącka
Description of the second day: Duration of sleep
The recipient experiences the dream together with Jacube. They are in a parallel world of images where there are no rules or logic. Colors, phenomena, fragments of situations swirl around. A phantasmagoric world full of puzzles, mysterious figures, symbols and sounds. The LCD screen displays the scenes of the performance - Falling asleep, which is a perceptible and inseparable element of a parallel dream space.
Description of the third day:
Awakening Finisaż or Awakening. Live music mini-concert. Surrounded by the paintings, the artist Patrycja Zarychta will sing, among others, the song "Short Dream" by Kacper and Jacube Rybińscy.
Jacube Rybinska is a Polish painter, born in 1985 in Toruń. She is self-taught. She is a clinical psychologist by education. She creates surreal paintings in acrylic technique. Dreamy phenomena, psychological portraits and dreams inscribed in phantasmagoric reality are the main subject of Jacube's painting. The world presented in the artist's paintings is built of fragments, separated cells, filled with patches of pure, strong colors and small figural representations that harmoniously complement each other, creating a coherent whole.