Joanna Szczepkowska. New Space.
Archive exhibition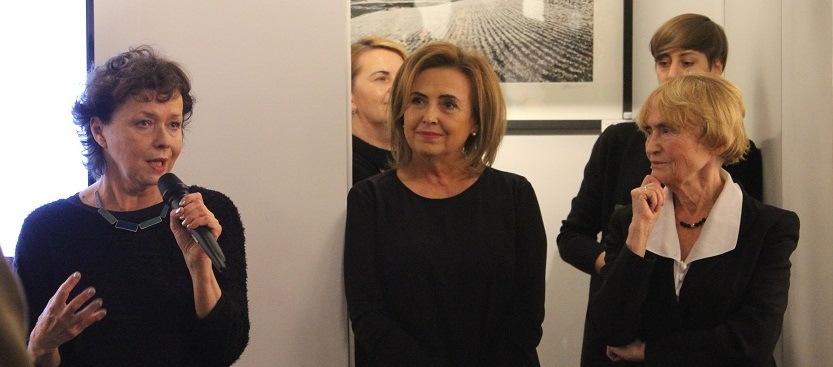 Artist: Joanna Szczepkowska
Venue: 101 Projekt Gallery, Piękna 62/64
Dates: 20.01 - 04.02.2016
Joanna Szczepkowska presents herself in the new and surprising role of graphic and drawing artist. For the first time she has decided to show her artworks which were originally published in the collection of essays "The Second Backyard" in 2000. Delicate as a spider web, they referred to particular texts or were a kind of inconspicuous decoration. It was the beginning of her artistic adventure which turned into a genuine passion. Szczepkowska's drawings attract attention by a sophisticated simplicity and purity of form. They stimulate the imagination, provoking the viewer to interpret the meaning of what has been encoded with an infallible black line on the pristine white paper. She is not searching for great themes, but finds them in everyday life. The protagonists of her drawings are ordinary people dealing with their small or big dramas. Anonymous passers-by who stand out from the crowd, or the underclass. Joanna Szczepkowska is extremely sensitive by nature, full of empathy; and thus her Drinkers and Bums are vivacious, cheerful; they do not arouse disgust but are endearing. Some threads provoke further study: we can find the recurring image of a homeless violinist as a metaphor for forgotten artists, the fate of the lost. Characters are usually devoid of attributes and portrayed to build up tension. That is the function of the litter basket, the alms bowl, and the cup of coffee standing on the coffee house table. Most of the drawings present an open form. Flexible, firm lines form only partial outlines of objects. Observers can find compositions created with short sections or expressive lines. It should come as no surprise that Joanna Szczepkowska – versatile, talented and always seeking new forms of expression – should attempt to use colors after a period of drawings. The paintings were created using computer techniques over the last three years. Pictorially clean drawings were overlaid with patches of colour. She experiments, expands the range of formal solutions and tries to express herself in various conventions. Sometimes her style is spare (for example in expression of my favourite "Sweater") or represents the principles of horror vacui (the canvas of "Coffee House" is filled with colourfully dressed silhouettes). Szczepkowska has expanded and enriched the range of her inspirations and has started to develop them in cycles. Also worth mentioning is an intriguing series of artworks such as "Body" and supernaturally enlarged parts of the body – "Ear" and "Lips". The artist also uses photography techniques (including self-portraits) in her series of works. In conclusion, I would like to express the wish that your encounter with the exhibition of Joanna Szczepkowska's drawings and digital paintings will be as fascinating as my first contact with her art.
Maria T. Krawczyk
PHOTO GALERRY
On 4th February 101 Project Gallery organised a final viewing of the exhibition of works by Joanna Szczepkowska.
PHOTO GALLERY